We're Running Out Of Time, Chloe
Seen in my Spam filter today:
You received this email because you are a client of, or expressed interest in, Uxoqcqvo Solutions.
I don't recall expressing interest in Uxoqcqvo Solutions. But then again, I express interest in a lot of things.
Important things
, mostly. So I don't want to ignore this e-mail. If I expressed interest in something, it stands to reason that I should follow up, even if I don't remember when or how I did so, or why.
But what to do? The e-mail contains no other information. This is therefore quite a quandary. I wonder: What would Jack Bauer do? Without Chloe, I mean. Maybe a query on the Internet's most popular search engine will turn something up.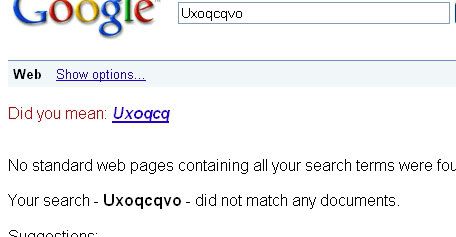 Well, I most certainly did not mean "Uxocqc"; what kind of retarded gibberish is that? Maybe that one hip new search engine that I have been hearing a lot of buzz about will be able to find something.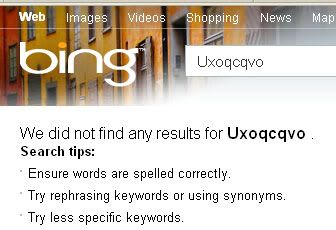 Nothing, and no suggestion either. Microsoft Fail.
You know, I did recently get an iPhone, and I have noticed that because the touch-screen keyboard is so hard to use, their autocorrect function is quite smart. For example, it knows that when I type "hsppem" I really mean
happen
, and when I type "kosets" I really mean
losers
. You know, like the
San Francisco Giants
.
So maybe someone just types really sloppy and thought that spellcheck or autocorrect would fix the problem. Maybe it's not Uxoqcqvo that I expressed interest in at all. Maybe it's really one of the following:
Yzowcwvo
Uxiwvavo
Uxowvqci
Uzowcqvo
But none of those terms get any hits on Google whatsoever. Jack Bauer has been foiled!